Road designers should be aware of the travel of overdimension and overweight loads when designing or altering roading networks. The Heavy Haulage Association has developed a comprehensive roading design specification that provides details of these requirements.
In addition, together with NZTA, the Association has developed a set of regularly used heavy haulage routes. These are the main routes that will be used when transporting an overdimension or overweight load. Note that often the loading and destination locations will be on other roads.
The Association recommends consulting the route maps to ensure that the main routes are identified and known.
The benefits of designing a roading project in compliance with the design specifications is that expensive re-design or re-work of the constructed design may not need to be undertaken later.
To ensure that a specific roading design project complies with the Association's requirements, please contact the the Association with the specific plans for the project.
Road Design Specifications for Oversize Loads
The Association promotes the use of guidelines to assist in the design and construction of roading networks and other infrastructure so that it can cope with the travel of overdimension and overweight loads.
In general the dimension requirements for an overdimension route are a clear width of 11.0m and a height of 6.2m. This will ensure that 95% of all overdimension loads will be able to utilise a route with these dimensions.
The current edition of the Specifications is Version 9 released in September 2023.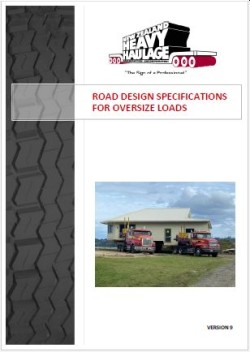 Overdimension and Overweight Routes
Typically overdimension and overweight loads will travel on known routes. Loads that are only overdimension will need to travel on routes that have certain dimension criteria that enable a load to travel.
Loads can be wide, high, long, or a combination of these, and the route chosen, will depend specifically on whether it suits the particular load.
There are a set of commonly used routes around the country for overdimension and overweight loads, NZTA has published two sets of route maps, however note that the age of these maps may mean that they are not up to date: